Oskar Metzke, The Spy who should not have died
By
The North Cork Village of Castletownroche is probably best known as the birth place of the legendary John Joe O'Neill and also as the burial place of the composer of such famous songs as "The Boys From The County Armagh" and "The Old Rustic Bridge By The Mill", T. P. Keenan.
But in December 1942, as World War II was raging in Europe, an event occurred in the Village, which is still talked about to day. On Thursday the 17th of December 1942 a young German took his own life in the Garda Station in Castletownroche. Who was this stranger? Why did he kill himself in a neutral peaceful country?
We know now that his name was Oskar Metzke and that he was a tall, well built man in his early thirties. The first sighting of Oskar Metzke in Castletownroche took place as darkness fell, but it is now known that he was seen in Fermoy earlier that day. The late Jim Roche, a plumber, was working in Pearse Square that day. At that time there were rumours of German Spies being parachuted into Ireland to link up with subversive organisations to cause havoc on the English mainland. Every stranger was viewed with suspicion and Jim Roche had no doubt that the man he saw in Fermoy that day was Oskar Metzke. Jim last saw the stranger as he walked across Fermoy Bridge, and it is likely that he also passed through the Village of Ballyhooly on his way to Castletownroche.
Thursday December 17th was a Market Day in Castletownroche and, with Christmas just over a week away, the village was busy. Retired schoolteacher, Richie O'Grady, now living in Fermoy has vivid memories of that long ago day. He was only twelve years of age at the time, but can still recall the hue and cry in the Village. As Richie remembers, the stranger sought lodgings at the house of a Mrs Casey, near the Church. Apart from the strange accent, this lady saw nothing untoward in the visitor and he arranged to stay for the night. He is also known to have called to the local Presbytery, where he met Rev. Fr. James Sheedy, the Parish Priest. He represented himself to Fr. Sheedy as being a Czech National on his way to seek work in Mallow Beet Factory. Fr. Sheedy gave the stranger some money and he was next seen in O'Connor's Shop in the Main Street where he bought some bread and cheese. By a strange quirk of fate the Local Garda, Jeremiah 0'Sullivan called to the shop as Oskar Metzke was being served. The stranger immediately attracted the attention of Sergeant 0'Sullivan and this is understandable as the country was in a state alert at the time.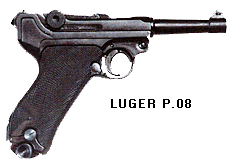 Oskar Metzke was then escorted to the local Garda Station where he again claimed to be on his way to seek work in Mallow Beet Factory. He gave his name as Oskar Metzke and said that he had been discharged from The British Army as being medically unfit. In support of this he produced a British Army Servile Book which appeared to be genuine, but Sgt. O'Sullivan insisted that he empty his pockets. What came to light sealed the fate of Oskar Metzke.

In his possession were found a map with aerial views of the North Cork Countryside, a compass, a combined torch and fountain-pen and most damning of all, the standard equipment of every German Spy, a Luger revolver. Realising that a potentially explosive situation was developing, Sgt. O'Sullivan decided to contact his Superior, Superintendent Moore in Fermoy. In the meantime Oskar Metzke was left in the care of the Barrack Orderly, Garda Francis Mannix. Garda Mannix is now dead, but his son, Billy, now living in Mallow, takes up the story.
"I was a very young boy at the time, but the story was often repeated to me by my father. Oskar Metzke was sitting quietly by the fireplace, when he asked Garda Mannix if he could eat some of his bread and cheese. On receiving permission, he walked over to the table where it lay. He started to eat his frugal meal, then turned his back on the Garda. Seconds later Oskar Metzke was in convulsions, it was obvious that he had swallowed something lethal and my father, Garda Mannix, did his utmost to retrieve it from his mouth, but already the German was unconscious. Within a matter of minutes Metzke was dead, but just before he expired he received a blessing from the man who only a short time before had been so kind to him, Fr James Sheedy. Dr Jeremiah Foley arrived soon afterwards, but by this time Metzke was beyond all human aid. A post-mortem was carried out by the then state Pathologist, Dr John McGrath and at the subsequent inquest Coroner Nagle of Buttevant revealed that Oskar Metzke had taken a deadly poison, cyanide of potassium".
In his report, coroner Nagle was full of praise for Garda Frank Mannix for his efforts to revive Oskar Metzke.
Some days later, the funeral of Oskar Metzke took place to the old Churchyard of St Mary's, situated on a hill overlooking the River Awbeg. Many people from the Village attended the funeral and Richie O'Grady recalls that it was a very simple ceremony. Canon Sheedy blessed the grave and coffin and then said a short prayer for the dead.
Some years later the body of Oskar Metzke was exhumed and subsequently buried in Glencree in Co. Wicklow. In 1957, the Irish Government had donated this peaceful location as a burial place for German Nationals of both World Wars. Many theories have since evolved about Oskar Metzke's mission in Ireland. Is it possible that he was involved in "Operation Osprey", which was the brainchild of Walter Schellonberg, attached to the German Secret Service, The Abwehr?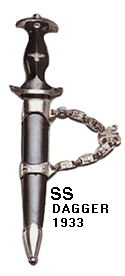 On the 26th January 1942, American troops had landed in Northern Ireland and the German High Command thought it likely that there could be an Anglo-American Invasion of Ireland. Given Ireland's strict stance on Neutrality, this was most unlikely, but in any event a secret group or SS Veterans was raised. They were to be parachuted into Ireland to carry out a campaign of sabotage against the invaders. The Operation never took place, but many of those involved in Operation Osprey were subsequently parachuted into Ireland.
Was Oskar Metzke one of these highly trained SS Men and what was his mission to Ireland? Why did he take his life when the worst that could have happened to him was that he would have been interred for the duration of the war?
These are questions that will probably never be answered. Today the body of the young German who died so tragically in Castletownroche on December 17th, 1942 lies in Grave No. 130 in Glencree. There is no epitaph, just a simple inscription, Oskar Metzke Born 24/06/09 - Died 12/12/1942. (a mistake, he actually died on the 17th)